Caitlin is a stong pink engine from the Other Railway.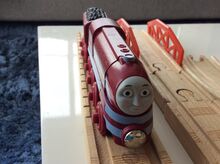 Caitlin is an American streamliner who takes people from the Mainland to visit Ulfstead Castle. She's designed for speed, and she loves to challenge the other engines to a race. Caitlin can be very impatient.
She and Connor take trains of enthusiasts and holiday makers to Sodor from the mainland. One particular night, she had to stay at Tidmouth Sheds with the other engines, but she was so excited she kept them up all night! Come morning, however, she was the most tired one of all!
Ad blocker interference detected!
Wikia is a free-to-use site that makes money from advertising. We have a modified experience for viewers using ad blockers

Wikia is not accessible if you've made further modifications. Remove the custom ad blocker rule(s) and the page will load as expected.