Frieda is a strong blue German engine.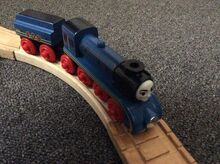 Frieda was present when she and the other international engines accidentally arrived on Sodor instead of the Mainland. When Thomas came to the Mainland to bring Gordon his safety valve, he mistook Frieda for Gordon. Frieda scoffed at this and puffed away to compete in the strength competition alongside Henry, Hiro, Vinnie and Shane, but the winner of the competition was left unknown. After the Great Railway Show ended, Frieda left the Mainland and returned to Germany.
Ad blocker interference detected!
Wikia is a free-to-use site that makes money from advertising. We have a modified experience for viewers using ad blockers

Wikia is not accessible if you've made further modifications. Remove the custom ad blocker rule(s) and the page will load as expected.