Sebastian is a black tender engine.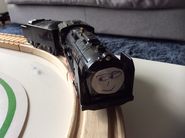 Sebastian worked on the Palm Railway with 60120, Mary, The Little Shunter. He pulled passangers and goods. Once he wouldn't start, so The Little Shunter had to take the goods. The Little Shunter smashed into the back of 60120's cab. Sebastian never saw him again, except for getting parts for 60120.
Many years later, he was discovered by Edward and Percy after their brakes failed during a trip to the Other Railway. He told them his story, and was taken the the North Western Railway.