The Passing Diesel is a rude green diesel who works on the Other Railway.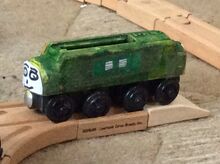 The Passing Diesel is a diesel who shouted a warning that Oliver was escaping. When Douglas was helping Oliver and Toad escape from scrap, he witnessed the event.
In Diesel Demolition, he came so Sodor with the other diesels from the Mainland.
The Passing Diesel was created from a new-style Diesel 10 model painted green with added face, hazard stripes and buffers on the back, and other details.
Ad blocker interference detected!
Wikia is a free-to-use site that makes money from advertising. We have a modified experience for viewers using ad blockers

Wikia is not accessible if you've made further modifications. Remove the custom ad blocker rule(s) and the page will load as expected.